Elizabeths Gardens are proud to be a certified full member of the Marshalls Register of Approved Landscape Contractors and Driveway Installers.
Correct installation is vital to the finish and longevity of your patio or driveway therefore it is crucial to choose a quality installer. Marshalls have a register of accredited landscape contractors and driveways installers to ensure that customers buying Marshall products enjoy peace of mind and a guaranteed quality result.
http://www.marshalls.co.uk/homeowners/uk-installers-and-contractors/elizabeths-groundcare-r01638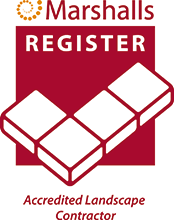 The Marshalls Hard Landscape Guarantee
Only a Marshalls Register member can offer you the unique Marshalls Hard Landscape Guarantee. The guarantee protects your investment with a level of cover unmatched by any other company.
Covers material defects for a full 10 years
Covers installation defects for 5 years
Is valid even if the installer ceases trading
Is index-linked, to protect your investment against inflation
Is issued only when inspected and signed as satisfactory by you, the customer
Is great value for money